Pay Connect
Intra-company transfer of money, cryptocurrencies or contracts with no bank fees worldwide.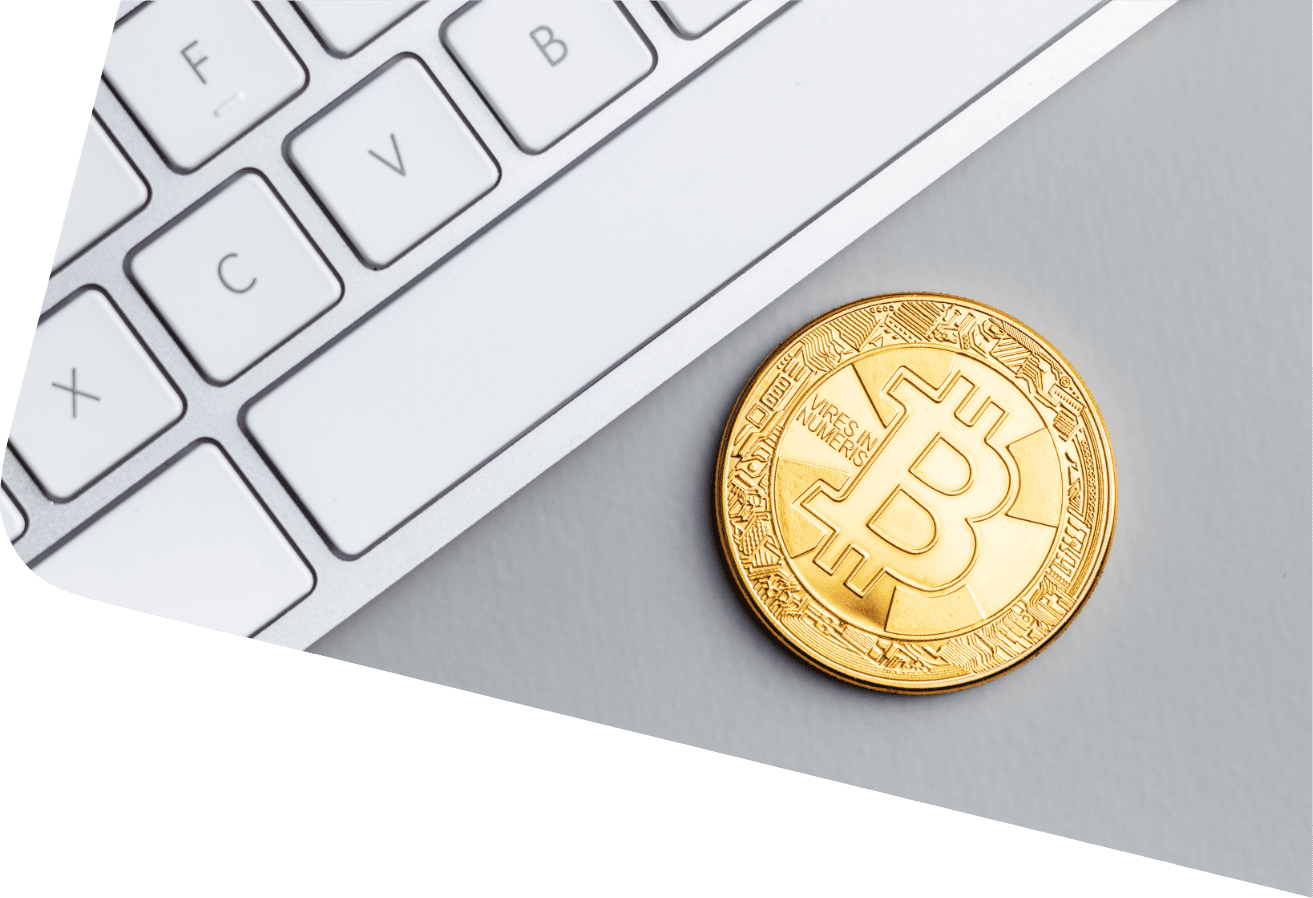 Our product Pay Connect is an in-house financial channel system. Each channel can be equipped with a certain amount of currency (e.g. 100 EUR or 1 BitCoin). Below, we explain this channel system using BitCoins. We show how cryptocurrency can serve as a means of payment and also take into account its conversion into conventional currencies.
Its big advantage over usual bank transfers, PayPal or credit card payments are the cheaper or partly omitted fees.
Especially after the Maestro options for credit card payments will be eliminated in the future. But there are more advantages, which we will explain in the following.
HighPots wants to introduce and offer Pay Connect as a payment network to its business customers. To make Pay Connect stand out from bank, credit cards or PayPal, we developed the product with the following parameters: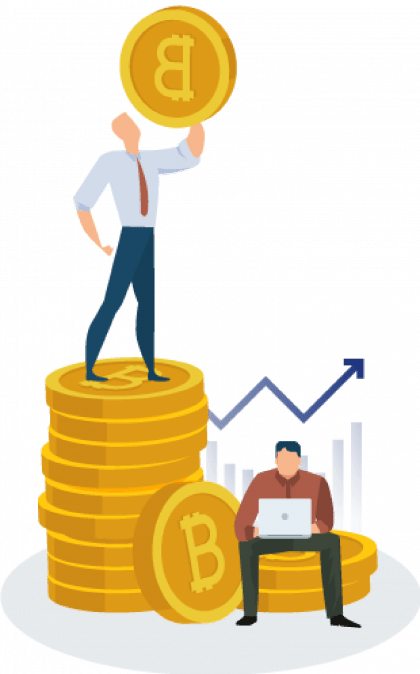 The requirements, processes, and technologies listed above are only useful if certain assumptions are met for the cryptocurrency Bitcoin. Therefore, the assumptions listed below are prerequisites for Pay Connect:
To fully meet the listed objectives, we combined the following technologies: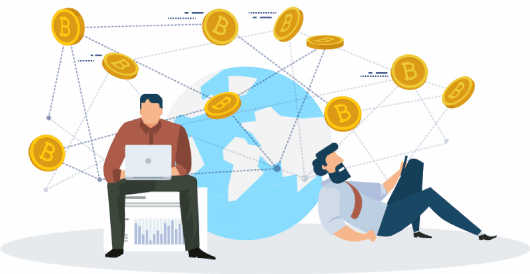 Before we show you the possibilities of Pay Connect by means of some use cases, we will briefly introduce you to the blockchain protocol Ligntning. We will start by showing you the limitations of conventional Bitcoin payments.
Transactions per time unit are strongly limited.
Transaction costs:
Transactions are expensive, – too expensive. Due to the high blockchain energy consumption, the transaction price (fee) is too high for Bitcoin.
Creation of a second layer for the transactions (off-chain solution).
For this second layer, we have selected and further developed the Lightning blockchain protocol. The Bitcoin Lightning layer is based on the Bitcoin blockchain.
Advantages of Lightning payment channels
Main requirement for the Lightning payment channel
The channel is established "trustless", neither partner can win by cheating.
Main features of Lightning
Funding- und Settlement-Transaktionen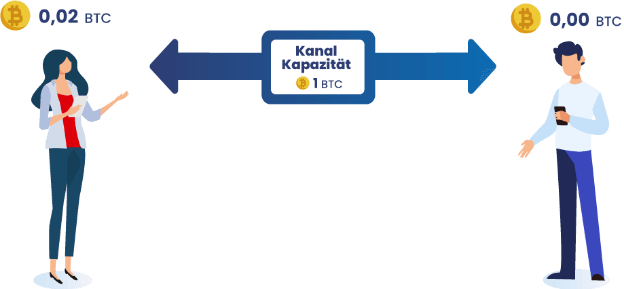 A Lightning Funding transaction is written to the blockchain. This transaction determines how many bitcoins can be spent in the Lightning channel.
A Lightning Funding transaction thus has 2 essential aspects:
A Lightning settlement transaction closes a Lightning payment channel. It synchronizes the current state of the channel (bitcoin values of the two participants) with the bitcoin blockchain.
A "HOP" is a participant that acts as a router. Lightning payments can thus be routed via individual participants. In the example below, person 1 (P1) pays 0.02 BitCoin to P3 via P2. This increases P3's assets from 0.01 bitcoin to 0.03 bitcoin.
The lowest channel capacity is relevant for the amount of Bitcoin; although between P1 and P2 the channel capacity is 1 Bitcoin, P1 can transfer a maximum of 0.5 Bitcoin to P3 because there is only a channel capacity of 0.5 Bitcoin between the HOP P2 and the recipient P3.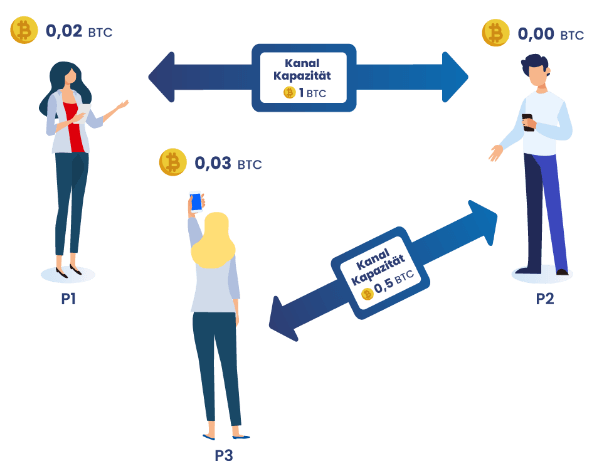 To make it as easy as possible for you to get to know the possibilities of Pay Connect, we have put together some use cases for you that build on each other.
Intracompany payment transactions
Intra-group international payment transactions via Bitcoin. Realization via Lightning network in which each
corporate unit (e.g. branches) represents a Lightning node.
At a certain point in time (e.g. 1x month), the Lightning network can be synchronized with the blockchain.
Those payments that are not just accounting can now be exchanged from bitcoin to fiat money. As an additional result, an intra-company Lightning backbone is created.
Specifically:
In Use Case 1, a company-internal lightning node is set up. Your company uses this Lightning node to process international payments internally.
An algorithm checks which payment channel is the most favorable (Fiat or Lightning) for each country and bank and then decides on the appropriate channel (internationally, this will probably be Lightning).
Bookkeeping amounts, i.e. money that is not paid out, can remain permanently in the Lightning network and be transferred back and forth in the channel between company branches free of charge.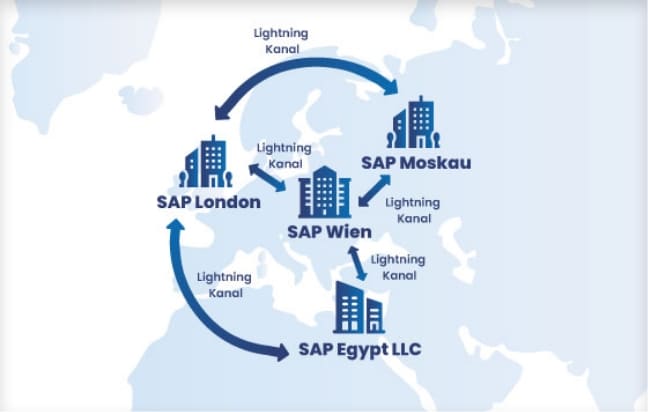 Payment transactions between your company and your partners
Now the network is opened FOR (not too) external partners (trust position). The position of trust is secured via Bitcoin.
Specifically:
Your company-internal lightning node is extended to include your partner companies.
Now payments and contracts can be made via Bitcoin and Bitcoin blockchain between your company and your partners.
Build a partner network where a) your company transacts with partners, as well as b) between partners.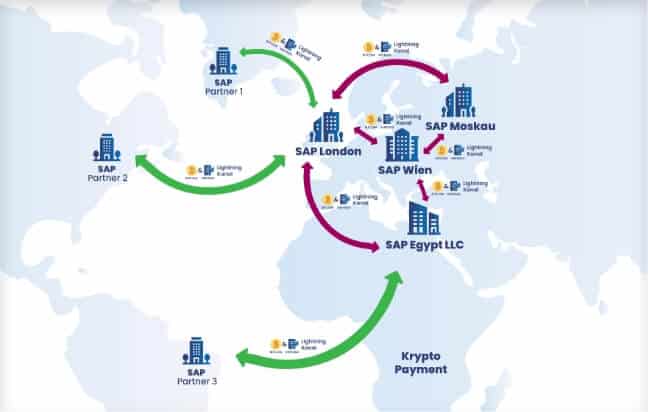 Expansion to include smart contracting
The Lightning protocol, in combination with Microsoft ION, enables smart contracting and payment via bitcoin blockchain.
Specifically:
In this Use Case 3, the focus is on the combination and integration of Microsoft ION and your company's internal Lightning node.
The interaction with ION additively enables smart contracting between all participants involved in the lightning node via the Bitcoin blockchain.
Extension by Lightning channels to externals
In these Use Cases 3a) & 3b), your company provides the Lighning payment network to its partners as well as its customers.
Payments are now possible between the following participants:
Here, your company also faces the challenge of Bitcoins being exchanged into fiat currencies in an automated manner. Thanks to Pay Connect, this can be done reliably.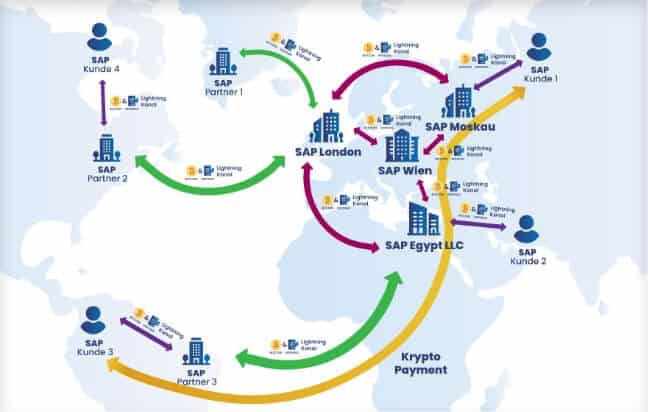 Sustainability as a win-win situation
The use cases described can be extended. For example, on the topic of sustainability and environmental protection, – in that the transactions result in donations that are responded to with donation receipts. An underlying calculation model of how much a donation should be so that an employee or a company is left with more net from the gross is also possible.